Integrated Circuit Chip Marking
iSeries™ Fiber Laser Marking Kit
Laser Photonics provides a state-of-the-art Q-switched Fiber Laser Marking Kit, the
iSeries™
, for integration into IC chip marking equipment. The Fiber Laser is the laser of the 21st century it has revolutionized the industry by offering maintenance free and low cost operation. The
iSeries™
has demonstrated the highest quality permanent mark on most electronic materials using up to 1.0 mJ of laser energy per pulse.
The
iSeries™
Fiber Laser Marking Kit is a safe, low cost alternative to conventional
Nd: YAG systems
to successfully create high speed, high quality marks on any IC Chip. Using our FiberScan C3 ™ graphical-based laser programming software tailored to IC chip marking, users can easily create marks such as graphics, logos, 2D matrices, barcodes, symbols and text in any production environment.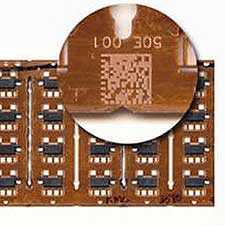 A barcode has been marked
on this IC Chip for tracking
The
iSeries™
features these integrated components:
Dual head configuration for 150 x 300 to 250 x 500 mm coverage
Optional Dual Head master-slave configuration
Integrated Design with laser, laser control and power supplies in one box for each of the two scan heads
Easy ONE cable OEM integration
Built-in I/O for integration into a production line or other equipment
Modular design for instant replacement of any functional part for minimizing production down time
Vision system integration and software support
Easy integration into assembly line with or without PC
Laser Photonics can offer world wide support and laser diagnostics through its multi-lingual software system.
Contact us
for further information and we will be happy to cater to your marking needs.